Chabad on the Plaza invites you to our

Passover Seders at Chabad
Experience the freedom of Passover the way our ancestors did when they left Egypt 3,322 years ago.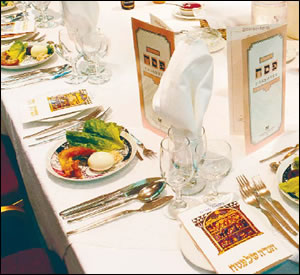 There is a seat for you at Chabad's Passover Seder.
We offer a warm, interactive Passover Seder. Our Seder is English friendly and not prayer intensive, so everyone can feel welcome. Enjoy fine wines, full dinner, and crispy hand-made Matzot. Celebrate the Holiday of Freedom at a Seder experience you will remember for a lifetime! 
Seder I, Monday, March 29th, 8:00 p.m.

Seder II, Tuesday, March 30th, 8:00 p.m.
To RSVP
please call us at 816-979-1751 or Email at Rabbi@PlazaChabad.com
 "Looking forward in seeing you!"